April 16, 2017
Mellow mummy
Mellow Mummy ~ Is being mellow a good thing? I am a very mellow person and beginning to worry if perhaps I am a little bit too mellow especially when someone asks if you have packed your hospital bag at 37 weeks and you answer no, including the midwife who then went on to say but you have got a car seat, right? with a look of sheer panic/shock on her face of course I said, we have everything I just need to organize it.
Time to get organised! The look on my midwives face made me panic a little and thought perhaps I should start to organise things, I felt as if I'd been slowly nesting, well if you call cleaning cutlery drawers, food cupboards, under the sink and worrying about the grouting on the kitchen floor and your oven nesting? I'm sure the baby will not give a shit! On the other hand, everything is built I painted an old rocking chair which I have wanted to do for at least three years and I started washing the baby's clothing (what a surreal thing seeing little baby clothes hanging on your washing line) and sheets so I think that makes us on the way to being ready, doesn't it? oh and the hospital bag is half ready.
Birth Plan – Time seems to be flying by it feels as if there is a million and one things to think about before our little one arrives, which is only 3 weeks away give or take. Occasionally my mellowness takes a back seat for few minutes whilst I have a small panic and then I am back on track. I have thought about labour and what I want which is fully supported by my partner, but I haven't written a birth plan, perhaps something else I should probably put on my to-do list! I am very open minded and when people ask what birth I would like to have and I reply a water birth with minimal medication they laugh! Everyone has their own views and I may totally change my mind but I am hoping that being punched, kicked, kneed and elbowed in the head for the last 16 plus as a pro fighter and being a yoga teacher with a strong practice may help stand me in good stead to have what I really want. I ideally don't want to have a cesarean, an epidural or pethidine, I am happy to have gas and air if needed and will listen to any medical advice given. Nobody knows what will happen during labour it's out of my hands so if things do not go the way I want I am happy to accept that.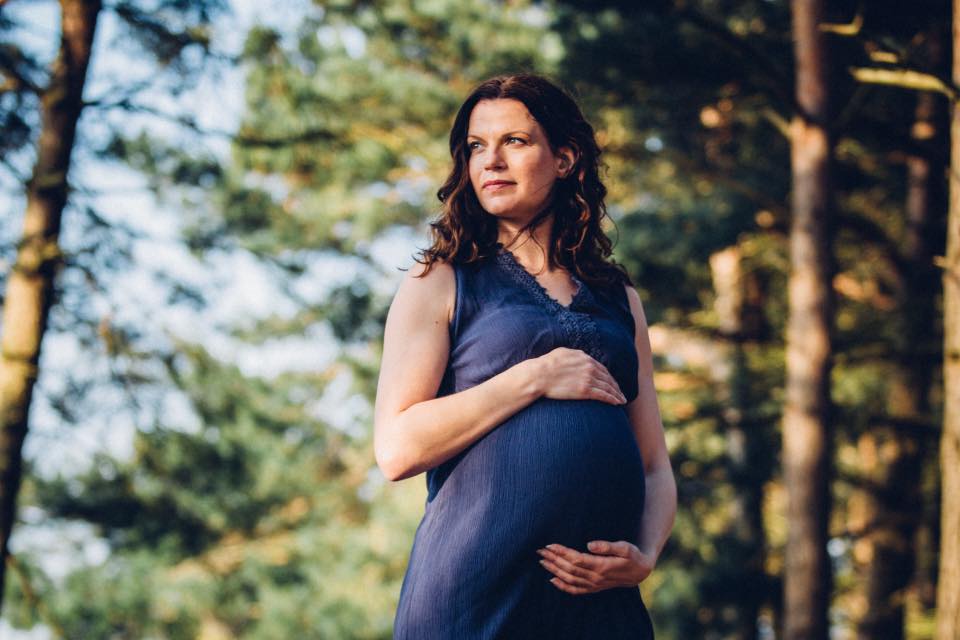 It's been a while since the last blog I have gone from 32 – 36 weeks. At 34 weeks I had a small freak out thinking how little time we had left with the bump. I really felt as if I had fallen in love with my bump and started to worry that having struggled so much at the beginning with weight gain and changes in my body, that now falling in love with the bump that when the baby arrives although I will have the baby I won't have the bump and I think I will be sad to a certain degree, is this normal? I have found that yoga has really helped me to connect
I have found that yoga has really helped me to connect especially now teaching pregnancy yoga. It is very short lived that we are blessed with two hearts and feeling movement and connecting with my breath and knowing that I am breathing for two makes it even more magical.
How have I been feeling? still pretty good just the usual pain in backside things like the calf cramps ~ two days back to back in the same calf left me hobbling around ~ advice light stretching, tonic water and magnesium spray I can't say they have helped but they may be easing it. Restless legs ~ ever had it? no?
Restless legs ~ ever had it? no? well, visualise watching the tv, reading a book, just getting into bed and imagine creepy crawlies all over your legs! ~ advice rehydration tablets 15 minutes before bed, they do seem to really work. Heartburn is the next culprit so much so I have actually been being sick.
Heartburn is the next culprit so much so I have actually been being sick. The ~ advice there isn't much it sucks, I drink milk every time I feel about arising varying coconut milk, almond milk, and little cows, using lots of pillows at night otherwise the acid reflux and the contents of my stomach rears its ugly head! Lat resort is Gaviscon but I find that only works for half an hour so my emergency goes to is Ranitidine. All
All medications/herbal have been checked with my midwife. My midwife did say pop a cork underneath your mattress foot end to prevent cramp, an old wives tale. I also have the start of
I also have the start of Oedema in my left ankle, feet elevated at night sorts that out. I do NOT WANT CANKLES!
Training makes me happy! I am happy to say I AM STILL TRAINING every week is different I think it just depends on where the baby is sitting that day. A few weeks ago lunges were out of the question, pigeon pose in yoga was a no go, aerial I thought had come to an end having had my midwife appointment I was made aware that the babies head had made its way to the pelvis. Then it was Muay Thai 2 weeks ago hitting the bag I thought it would be my last session. Each time I come to the gym I come with an open minded mellow approach and the last week everything is feeling good again. Everything is still adapted, each week, even more, gets changed. I haven't done any strength and conditioning due to timing with work, however yoga, aerial and Muay Thai have stayed a strong part of training. I am still training 4-5 times a week ~ 30 – 60 minutes, for me it just feels good to still be doing something so I will continue for as long as I can. Luckily I have some fab trainers who make it possible for me to train and understand how important it is for me to continue.
Work that pelvic floor! I had a really good session 2 weeks ago with Vanessa Dyer who knows a lot about pelvic floor training, an essential area to exercise and focus on, on the lead up to birth and certainly after, if you're pregnant or have been you will know exactly what I mean. I daren't cough or sneeze at the moment in the fear I may pee myself. We incorporated the pelvic floor into general exercises like squats, lunges, press ups it was as much a mental exercise as it was physical. If you do not know anything about pelvic floor it is one thing I would really advise you look into, take up pregnancy yoga, pilates or find someone who can help as it will be so beneficial for you.